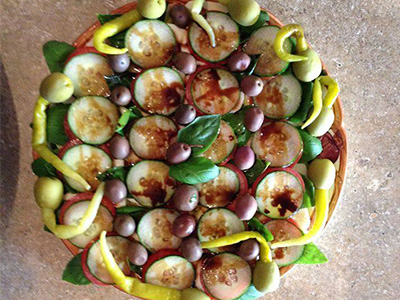 Ensalada Escorpion Caprese!
Elegant and so simple I made it in less than a half hour at the shop before going to a Fathers' Day/ Birthday Party.
Ingredients
All you need is 2 loafs of Mozzarella Cheese (pre-sliced is easiest)
5-6 firm Roma Tomatoes
1 medium English Cuke (do not substitute)
2 dozen Large Basil leaves
jar of Sutter Buttes Herbed Olives
jar of our Green Chili Olives (we call them Escorpions)
Black Truffle sea salt
a medium robusto EVOO
a good Balsamic reduction
Our platter allowed me to lay out two rows of 6 slices and two rows of 5 slices of the Mozzarella, 1/4″ slice iof not done already. Be uniform…no end pieces…let's be pretty!
Top each with about a 1/4″ slice of Roma. Do not use end-pieces.
Lightly sprinkle the tomatoes with Black Truffle sea salt.
Top each with 1/8″ slice of the English cuke. I leave the skin on for color.
Slip a Large Basil leaf in between each cheese and tomato slice.
Generously cover with EVOO. (I used our Peranzana EVOO. Don't skimp!)
Drizzle with Balsamic Reduction. (I prefer our Cabernet Merlot BR from Nonna Pia's…be generous again.)
Arrange the Herbed Olives. (They have the pits in and some stems which is really a cool rustic effect.)
Arrange the Escorpions around the outer edge and any extra Basil leaves in the middle.
Serve and enjoy!
Comments are closed