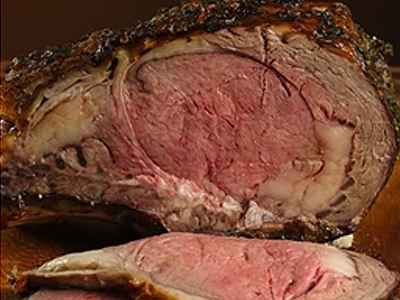 Garlic Crusted Roast Beef
Ingredients
2 lb eye of round, roast
1 tbsp Garlic Seasoning (we highly recommend Garli Garni
1 tbsp garlic infused olive oil
6-8 cloves fresh California Grown Garlic (NEVER FROM CHINA), minced
Directions
Allow meat sit at room temperature for an hour before cooking.
Preheat the oven to 450 degrees. Line a roasting pan with foil. Place a roasting rack inside of the pan.
In a small bowl mix the seasonings, olive oil and garlic until well combined. Rub over the entire eye of round roast then place in pan with the fat side up.
Roast the 2 lb roast for 12 minutes in the preheated oven, then reduce heat (don't open the oven door!) to 275 degrees and continue roasting for about 60+ minutes or until a meat thermometer reads 135-140 degrees (for medium rare). Remove from oven and let rest for at least 10 minutes before slicing.
Comments are closed