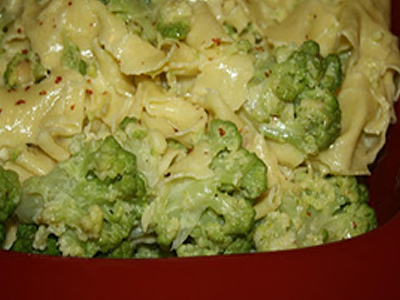 Pan Roasted Roman Cauliflower with Caramelized Garlic, Red Pepper & Pecorino Over Pappardelle
1 large head of Green Roman Cauliflower florets only (regular cauliflower can be substituted)
8 medium cloves of garlic (sliced thin)
1/2 cup Arbequina EVOO
1/2 teaspoon red pepper flakes
1/2 cup good quality fresh grated Pecorino cheese
1/2 cup heavy cream
sea salt & fresh ground pepper to taste
Boil the pasta in the water that was used to blanch the cauliflower.
Bring a large pot of salted water to a boil.  In a large sauté pan, heat the Arbequina over medium heat.  Add the garlic and sauté until light golden brown (be very careful not to burn the garlic) Blanch the cauliflower florets for 2 minutes.  Remove, drain, and add to the sauté pan with the garlic along with the red chili flakes.
Meanwhile, boil the fresh pasta for two minutes in the same water used to blanch the cauliflower.
Sauté the cauliflower, garlic and chili flakes for a few more minutes over medium-high heat until the cauliflower begins to get toasty golden brown around the edges.  Add one cup of pasta water, the Pecorino, and cream to the pan with the cauliflower and garlic.  Simmer for a minute until slightly thickened, and add a few grinds of fresh ground pepper.  Add the well-drained pappardelle to the pan and toss to coat the pasta and distribute the cauliflower florets.  Adjust seasoning with salt to taste.  Add more cheese to serve.
Makes 4-6 servings
Comments are closed